I have never had any luck with Red Sox pitchers.
I very rarely ever own any Sox players at all because they are always better real life players than fantasy studs. Every once in a while a Josh Beckett gets thrown at me for good value and who can blame me for snatching up Josh Beckett for less than 20 dollars?
When I got home from work last night, I immediately rushed to my computer to see which Josh Johnson showed up to pitch…the last concern on my mind was Josh Beckett. I mean, the Red Sox won and scored a bunch of runs…that in itself was a miracle.
Pleasantly surprised that the real Josh Johnson stood up, I glanced over to see the nightmare stats of my buddy Josh Beckett. Where is the real Josh Beckett? I am beginning to believe that this is the real Josh Beckett…the April Josh Beckett..oy vey…Here are some other things I learned:
Nelson Cruz
- Oh man, I can cope with Kinsler on the "I haven't even started running yet DL"..I can deal with the idea that Teixeira is batting less than 200, and I am even calm with Rollins on the DL. Oh, I wasn't even upset when Aaron Hill A went down (thanks to my boy Prado)…
BUT PLEASE OH PLEASE do not take my Nelson Cruz!! I NEED him !!! I prayed that Nelson Cruz stays healthy before I went to sleep last night, I hope it works… I don't ask for much.
On a Lighter note, Whoooppeee! Carlos Gonzalez woke up. We can now officially get this party started with his HR, SB, and the first walk of the season. Nice.
Jonathan Sanchez
is a must start in all leagues no matter who he faces. Remember that the Phillies ARE beatable as it has already been proven by the Washington Nationals several times this season. The Giants are one of the better teams in the National League, and Sanchez WILL at least get some k's, if not the win.
Jorge De La Rosa
is now on the DL. I feel a sense of guilt for this one but that is a long story.. Don't drop him, bench him.
( and don't try to play 5 closers and 3 starters and expect to get your 5 start requirement met each week)
Utilize Jose Bautista, Will Venable, Andruw Jones, James Loney and/or Ty Wiggington
I walked to the mailbox this morning and found the BEST package. I was expecting the Autographed Jose Reyes Baseball card I won by guessing the NL team who would get the most stolen bases in the first two weeks…lol…Courtesy of Markus Potter…BUT…to my surprise…An ICHIRO World Baseball Classic 09 card with the fabric from WBC player jersey embedded in it. , AND an Evan Longoria TB card!! How thoughtful, THANK YOU MARKUS!!!
2010: A Papelbon Reality Check
The first week of baseball comes to an end tomorrow and who am I to freak out over the fact that Edgar Rentaria is the most dominant Shortstop in the game? No, I will not give you Mark Teixeira for Placido Polanco or Vernon Wells. Carlos Zambrano will hold a starting job in my fantasy rotation, and no I will not give up on Big Papi. I am a Red Sox fan, and I personally see upside to any player who can hit 25 homeruns and get 90 RBI in the second half of the season. I hope for the sake of the team that they utilize Mike Lowell against leftys while Mr. Ortiz warms up.
I also see a problem much larger than Papi's slowed bat speed. His name is Jonathan Papelbon, and while all of you believe in his "elite" numbers, I see a closer with one pitch who has a bad attitude and no room for improvement. Sure, the guy had an ERA of 1.85 last season. Elite. His whip was above average at 1.15. He struck out over a batter per inning. Elite.
Something was wrong. I noticed myself going from a sigh of relief when Paps took the mound, to a feeling of anxiety as I watched pitch after pitch, a walk here and a full count there. What used to be 15 pitches, and a dominant fast ball has turned into 30 pitch sagas.
I know, I should not worry about one game. One blown save. I mean he only had 3 all last year right? Should I worry that he was supposed to be working on new pitches this off season but threw 37 fastballs out of 38 pitches? Should we be of any concern that he has blown two of his last three save opportunities? Or that he walked 8 batters in 08 and 24 in 09?
Consensus is "NO". Quit being so hard on Papelbon, he is obviously a top 3 closer. He had 38 saves last year. Only blew 3. One of the most reliable closers in baseball, they tell me. Is a strand rate of 89% normal? Maybe that is why his ERA and WHIP look so good. Personally, I thought he looked his best in 2008, but the numbers would not necessarily back me up on that. His ERA was 2.35 in 08 vs the "elite" 1.85 in 09 but the guy struck out 9 batters for every batter he walked. And since his strand rate was 69% instead of 89%, more runs happened to score.


His Command is way above average, SUPER, superb, excellent…Elite. Well, I guess it doesn't matter how straight you can throw a fastball when the batter knows what is coming. Granderson was the first batter to ever get two homeruns off Papelbon? May be the first but will not be the last.
ETCH that one into your kitchen table.
Papelbon is young, and by no means am I saying he couldn't develop some sick new slider, or change-up. We won't see that in 2010. We won't see it in a Red Sox uniform. Sorry, Red Sox nation, We have seen the best we are going to get from Jonathan Papelbon. His ego has taken over and it won't be long until we all see the effects of poor work ethics and no desire for improvement.
It wasn't too long ago that Papelbon stated he would raise the salary bar for closers.

The Blazers are still contending with the loss of two Centers






Marco "Scoot"ero, new member of the Family
To be completely honest, I wasn't thrilled about the idea of Marco Scutaro. I feel almost guilty in a way because now that I have accepted the fact that he is a member of the RedSox ballclub, I decided to take a closer look at his potential possibilities for the team. Previous to this, I only saw the .260 batting average, and the fact that he is a 34 year old who had never been given the opportunity to play every day. There is much more to Scoot...
He had the best season of his career in 2009, and I agree with Theo that this isn't just a fluke. His BABIP is average, which tells me that it wasn't based on luck. His patience at the plate is much improved because his walk rate has gone up substantially.
He has sincerely wanted to be a part of the Red Sox Organization.
He turned down a higher offer, to play in Boston and he has the attitude that will make up for his low BA in many ways. I think he will have his best years to come, in Boston...Welcome to the club Scoot!!!!
Andrea
Arizona Fall League was everything I expected
And more…here are notes on the guys that
I see having a role in 2010…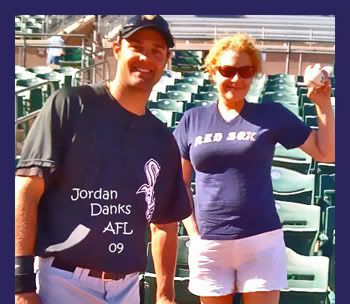 Steven Strasburg SP Was-
No surprise here right? He is the most obvious "Albert Pujols" type prospect this year. Unfortunately I did not get to watch him pitch, as he was scratched from the rising stars game on Saturday night. I did, however, speak to the scouts who saw his stuff and I did not hear a negative word about him.
The guy pitches over 100mph (for real) and he hasn't even turned 20 yet!! My biggest concern with Strasburg, like the many other superstar prospects in the past, is the hype. This guy had security around him like he is a Hollywood movie star. While his teammates signed autographs and chatted with fans, there was a set of rules created exclusively for him.
I really wonder to myself just how unhealthy this is for him. Number one, we all know what can happen to a young boy on a pedestal like this, but what about his relationship with his team? If I've said it once I have said it a million times, a good baseball team is much more than power or speed. If the camaraderie isn't there, the chances of success are nil. Look at David Price and Matt Weiters, who were expected to be great MLB players their first season. The media hype led fantasy players to stash these guys away in non-keeper leagues as if they were such assets they would actually add enough value to store for the first half of the season….If this is the reaction of an otherwise logical mindset of a fantasy owner, just imagine the pressure we put on these kids to be perfect. Bottom line, nobody plays baseball like a vet in their first year, so hold your pants on and unless you are in a keeper league do whatever it takes to resist the urge to draft this guy in the first round.
Jordan Danks OF CWS-
The scouts have mixed views about his hitting but there is no mistaking the power or the athleticism of this kid. Jordan and John Danks playing on the same team in 2010.. how nice for their parents who won't have to fly all over the country to watch their sons play ball. The souts say that he looks "lanky" at the plate, but I didn't see it.. I was lucky enough to follow Greco and Lenny around who had press passes and did an interview with Danks. Very nice kid. Praised but not over hyped, he may actually be a solid fantasy pick in the OF next year for the White Sox. Yesterday I happened to run across some audio of CWS general manager, Kenny Williams, on a radio interview the othr day. When asked about Jordan for next season, Kenny simply replied that "If he continues to be better than Rios, which is easy to do, he may have a position in the OF to start in 2010.
A Typical day for a fantasy baseball owner…
Rise and Shine, morning podcast, make coffee.
Laugh at Lenny's jokes while jotting down yesterday's stats ..
Study teams, trade/transaction reports, and roster trends. Shuffle players around...
Drink Coffee, Read newspaper headlines. Note the stats, turn on ESPN.
Watch highlights, drink coffee, back to FantasyPros911 for headlines, blogs and player news.
Analyze match-up stats and locations, set your team….
Turn off coffee pot, grab a beer, the remote control and MLB.TV Guide.
Flip through channels for a full 5 hours, watching every game from Boston to San Diego.
Jot down more numbers.
Oh, I forgot about going to work…not important.
After 10 weeks of this, we find ourselves doing more statistics than we did in college, and above that, we are actually believing them all. Just remember that stats lie…
A stat can only tell us what happened yesterday. One of the best things about baseball is that today is a new day. Players have ups and downs, hitting streaks and strike-out slumps. A pitcher may walk in the winning run today and pitch a complete game shut out next start.
Stats are a useful tool, don't get me wrong, but they are not the only tool.
Remember to enjoy Baseball, go with your gut, and don't be afraid to think outside the box. I mean, this
is
"Fantasy" right?